Interactive Futures returns in 2020
December 10, 2019
• 0 Comment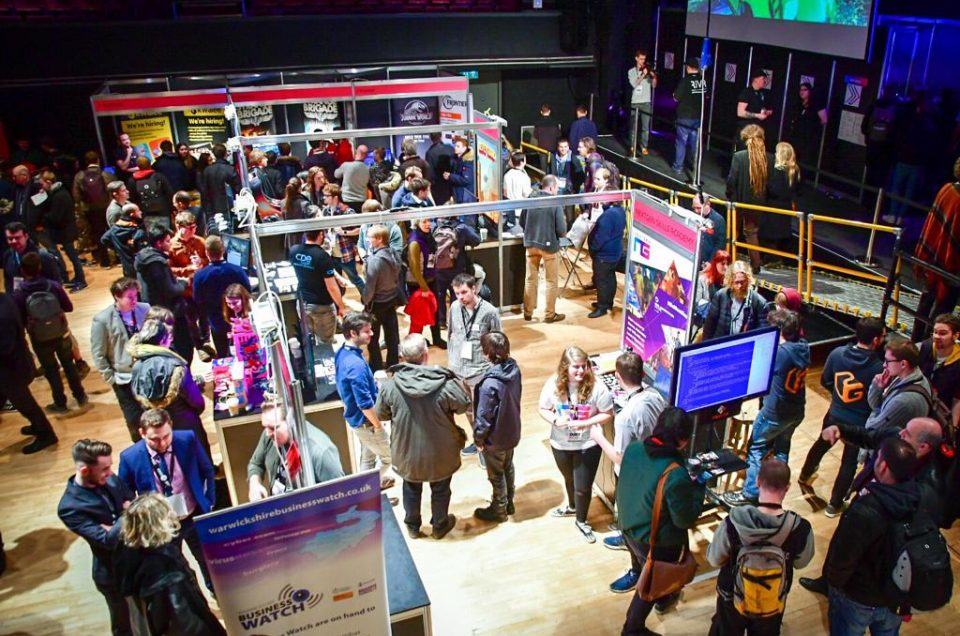 Two-day event will showcase the talent, culture and career opportunities within the Leamington Games Hub
An Indie Investment Forum will also be staged
Interactive Futures will return to the Royal Spa Centre in Leamington in the New Year following its successful inaugural event earlier this year.
The two-day conference and expo will once again showcase to the industry and to the general public the rich seam of talent within the Leamington Games Hub.
The event will highlight the region's heritage within the UK video games industry, its talent and creativity, the unrivalled community of indie and major studios, and career opportunities – both for students and for those already working in games and beyond.
Interactive Futures is being funded by the Coventry and Warwickshire Local Enterprise Partnership (CWLEP), Warwickshire County Council and Warwick District Council alongside support of local industry.
On Friday, January 31, Interactive Futures will play host to an Indie Investment Forum, a special 'speed dating' event where the area's independent studios will have the opportunity to meet investors, publishers and advisors.
A conference programme will also highlight key issues relevant to the region and the wider games industry, with topics including Ukie's Regional Economic Impact Report – and why Leamington is punching above its weight; How to finance your game and studio; and How Leamington became one of the biggest games hubs in the UK.
Saturday, February 1 will see Interactive Futures open its doors to consumers and students to inspire the next generation of talent with career opportunities the key focus for the day.
Conference topics will include Levelling Up: What skills and qualifications are required for a career in games, How we made it: Young indie developers discuss their careers, Beyond coding: Why there's a career in games for everyone and much more.
The day will also feature practical activities for all, the chance to try out the best of the games created in Leamington, competitions and esports challenges plus a CV clinic and portfolio reviews for students.
An expo showcasing the best of the Leamington Games Hub will run throughout the two days.
Stacy O'Connor, Digital Creative Lead at the CWLEP, said: "The first Interactive Futures was a major success with over 1,700 games enthusiasts, students and industry professionals attending.
"This is one of the key sectors that the CWLEP supports and there will once again be a vast range of content to appeal to a cross-section of the community to become involved."
Monica Fogarty, Chief Executive of Warwickshire County Council, said: "We look forward to welcoming back the Interactive Futures games festival in 2020. Last year's event provided an excellent opportunity to showcase the world-class talent we have in the region, and really put Warwickshire on the map as a career destination for the fast-moving games industry.
"We are proud to be the home of Silicon Spa which plays such a key role in our thriving economy. The range of activities planned will appeal to a wide audience, from games developers to young gaming enthusiasts, and we are confident it will go from strength-to-strength as a flagship event in the UK gaming calendar!"
Joanne Randall, Strategic Economic Development Officer at Warwick District Council, added: "We are so proud to once again be holding this event in Royal Leamington Spa. This is an opportunity to build on the momentum we achieved in 2019 and continue to help this important business sector to thrive and grow in the area. In particular, we are excited to be hosting the Indie Investment Forum to help individuals and organisations taking the next steps to develop their ideas and plans.
"We'd urge people to come along to find out how significant our growing Leamington Games Hub is to our local economy and how they can be a part of it."
If you are interested in getting involved with the Interactive Futures conference programme, please contact Lisa Carter on 07970 164201/lisa.carter@mimrammedia.com.
If you would like to exhibit at Interactive Futures or become a commercial partner, contact Darrell Carter on 07967 947076/darrell.carter@mimrammedia.com.